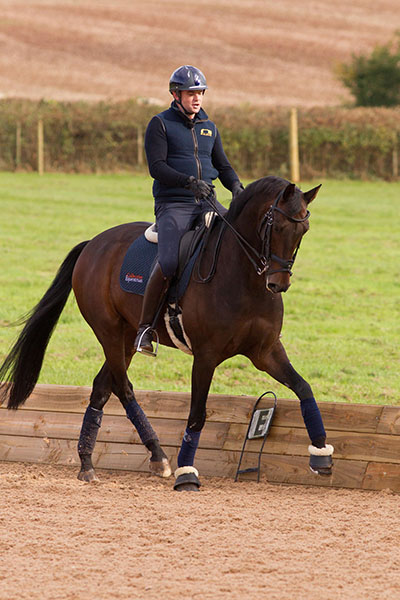 Following in his mother and sister's footsteps, Jonny started riding when he was nine years old. Jonny and his sister, Alana, were generally pretty mischievous with their ponies and paid very little heed to where they could and could not ride – indeed they paid little attention to anything they were told they couldn't do. Probably unaware of the excellent teaching that dribbled into them as young kids from Antonia Wills, it was only when they were a little older that their intrepid adventures on their ponies translated into the fearless joy that accompanies all good riders. A thoroughly engaged equestrian family, Alana has evented up to three star level and now assists her husband, himself a successful jockey and Master of the Grafton, with their successful racing yard.
Jonny, meantime, though eventing himself for a few years, started to specialize in dressage just in time to get involved in Young Riders. Seeking out the help of Delia Cunningham, he went from having never ridden much more than a simple eventing test to contesting Prix St Georges dressage within a few months. His then horse, Sibelius, was far more than just a young rider horse and the pair competed all through the levels and enjoyed a few seasons competing internationally at Grand Prix.
On finishing his master's degree in philosophy, Jonny was seconded to assist in the running of the family business. This meant that dressage took a bit of a back seat for a few years. It was in 2009 that he asked his trainer, at the time, Pammy Hutton, if he could stable full time at Talland. This meant that he could crack on with running what had turned into rather a large and successful family business of nearly 1500 staff by day and rock-up to Talland in the evenings to try Pammy's patience and light up her indoor school often till ten o'clock in the evenings. Six years later and with a considerably larger string of horses, Jonny left Talland to set up his own place at Curls Farm. They were very formative years since he'd not really done much riding for nearly four years and had dropped from being pretty much at the top end of the sport with Sibelius to having to catch-up, again.
Rising back up again with Tom meant international placings as well placings at Intermediaire I and Intermediaire II at the Nationals. At the same time a successful sale of the family business was forged meaning that Jonny could spend more time riding, once more. Some very promising youngsters as well as the super-exciting 9 year old Zick Zack Toftegard complement his top ride, Khartoum. At the 2016 Nationals, Jonny and Zak enjoyed a 4th in the Medium Gold and 3rd in the Advanced Medium Gold classes - with 2017 looking even more exciting! Aside from the dressage, Jonny also restarted his eventing following the arrival of King Caspar in May 2016 - they managed to squeeze in several runs at BE100Plus, even getting a double clear. 2017 saw Zak stepping up to Small Tour level, with plenty of top 10 placings at the Premier Leagues, as well as a win at Somerford Park! Ending the season with 6th place at the Nationals in the PSG Class.
Kathryn - International Para Rider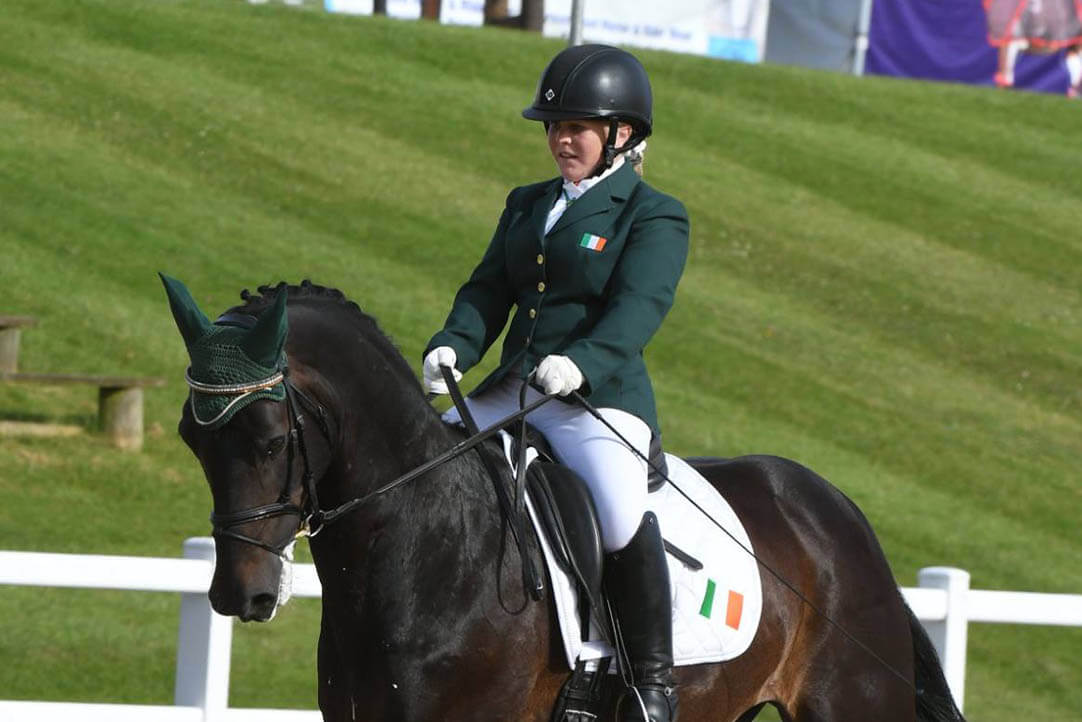 Kathryn has been riding since she can remember. Growing up around her mother's horses she was bought her first lead rein pony at 7 years old, starting off at local shows and even winning at county level. She was fortunate enough to keep her horse on Andrew Day's yard where at 12 years of age she found dressage and managed to teach her Welsh section a to do a turn on the forehand!
At 14 Kathryn was classified as a para rider due to her growth disorder (Turners syndrome) which effects the mobility through her joints, coordination and spatial awareness, a year later she did her first junior international for Great Britain on her first dressage horse Panters Pioneer. At 18 Kathryn's mother brought her current horse Waragon at the time a 4 year old by Negro. She trained him up the levels whilst doing a degree in Psychology with Sports Science at Nottingham Trent University. It's been a long journey with him but last year after changing nationalities Kathryn and Waragon were invited to their first European championships where they came 8th with 68% in the team test for Ireland.
READ MORE
After completing her degree Kathryn decided to have a gap year to work with horses where she found sheepcote equestrian and ended up staying for 3 years training with David and Serena Pincus, where she got the opportunity to ride and compete a Grand Prix horse. Kathryn is 25 and joined the team as a working pupil in June 2016.
Kathryn also competes in able bodied competitions and has been to the national championships three times at medium level, even coming 3rd in the medium restricted freestyle at the 2016 Winter Championships. Dreamer is now 14 and training at somewhere between Advanced Medium and Grand Prix! In 2016 they represented Ireland at the Para International at Hartpury Festival of Dressage, then scored a whopping 76% to win their qualifier test in October at Solihull and completed their first Advanced Medium at Hartpury in November. Since selling Dreamer, Kathryn has found her new partner Finn, a 4 year old. Whilst he develops, she is now campaigning Lexi for Elizabeth internationally for Ireland – with 3 top 3 placings at Bishop Burton CPEI in July despite still being a new partnership.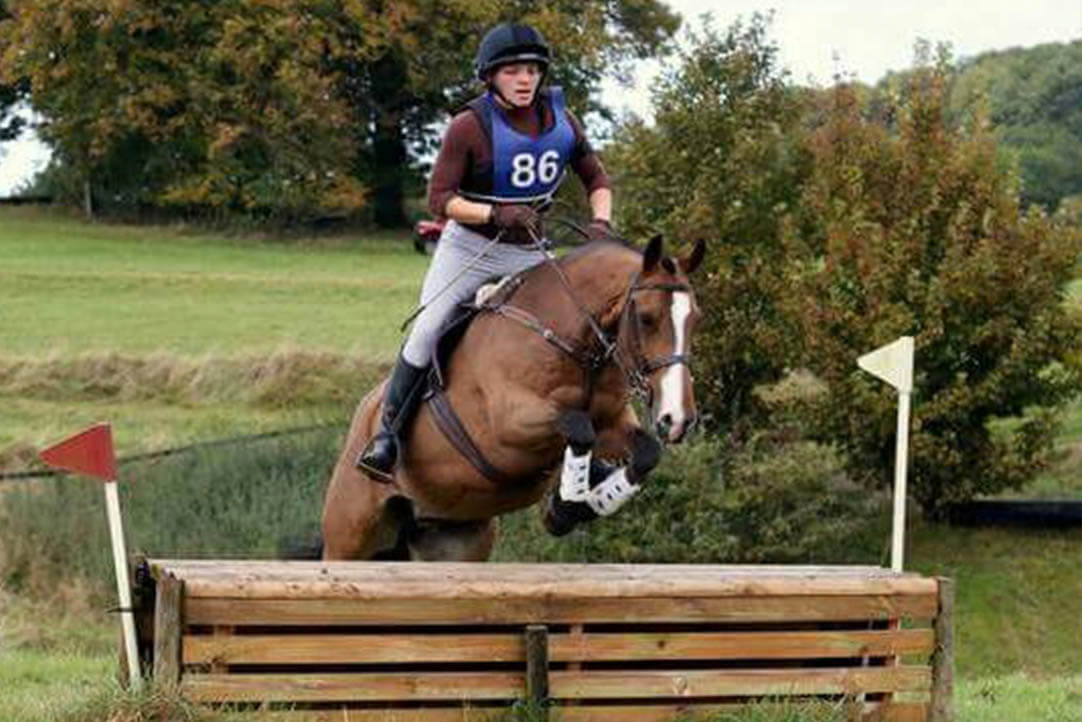 Jess has been around horse's since she was 2 and has loved them ever since. Aged 7, she had her first pony – Charlie the New Forest. Jess enjoyed the ground work with CharIie and enjoyed much success in-hand showing with him. Alongside her family she helped with plenty of rescue horses and ponies, coping with scared neglected horses let Jess help to regain their trust and confidence as well as enhance her ground work skills.
Jess passed her Levels 1 and 2 in Horse Care and Management at Norton Radstock College, and also did a 2 year work placement at HorseWorld. With her current horse Alfie, they have progressed together over the past few years forming quite a partnership after joining the Blackdown Riding Club. They are developing their flatwork now as well as gaining more confidence jumping. Last year they entered a few hunter trials and thoroughly enjoyed them, with this years aim being a one day event.
Jess joined the team, aged 23, in April as a part time groom and became full time in November.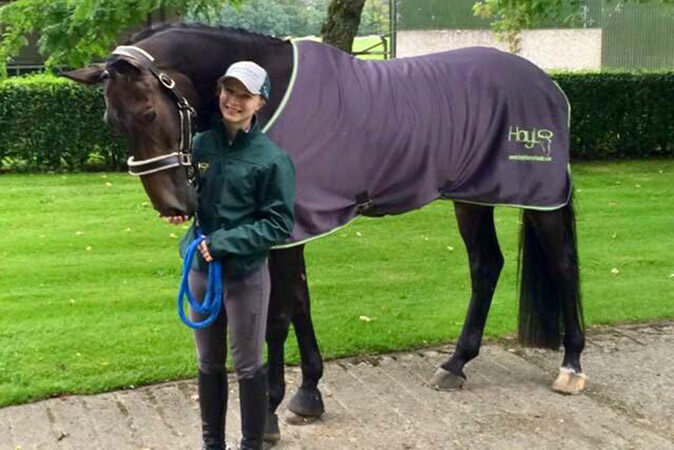 Shannon Cussen, 24, joined the team in December 2017 with her horse Fan and little dog Minnie from Ireland. She started riding age 12 with weekly riding school lessons, a year she as bought her first pony by her Granny - a 5 years old called Dancer. At 15, Shannon bought LP, a show jumper. To help get him stronger she started taking dressage more seriously at 17, together they won the Silver Spurs u25 Championships together in 2015. Then at the Racing Academy Shannon gained Distinctions in the care and exercise of racehorses, stable management, equine anatomy and physiology as well as becoming an apprentice level coach and an level 1 HSI Coach.
Following this, Shannon worked at the Airlie Stud in Kildare and is very experienced in all aspects of stud life and is supported and sponsored by Haylo.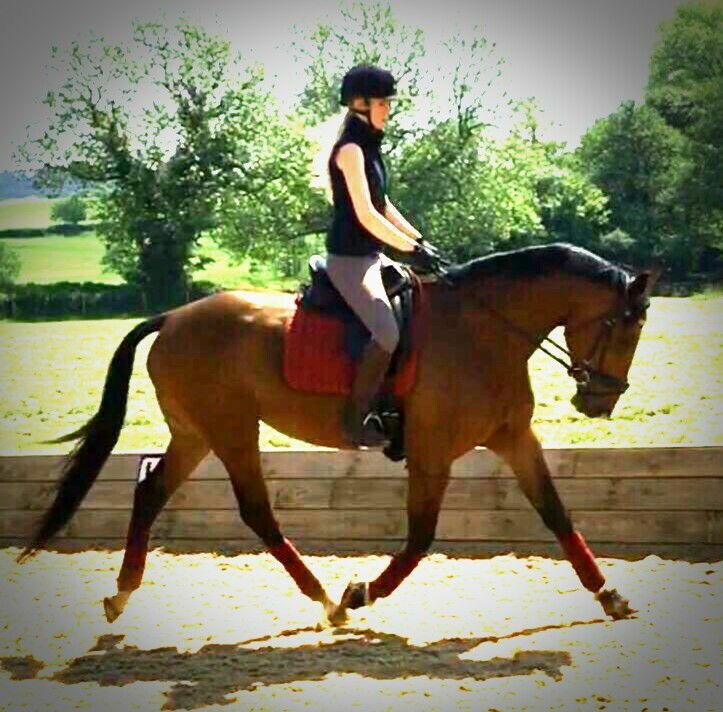 Harriet has been brought up surrounded by Welsh ponies and cobs, she had success from a young age through lead rein and first ridden on her Section A ponies up to Open ridden on the Section C and D cobs. She represented the SWAwpcs association for several years competing in the national young judge's competition finals, and was 2nd in her age class only beaten by 1 point!  As a tall 12-year-old she was more interested in dressage and trained her then section A gelding Browan Terfel before he was sold, he then went on to be 6th at HOYS the following Oct.
During the summer of 2017, she worked at Peter and Anne Jones' Menai Stud in West Wales, over a period of just seven weeks they managed to back 23 ponies from un-handled to ridden potential and have a lot of fun along the way. The desire to continue with dressage meant acquiring a schoolmistress -Velocity V, and more recently a 3 yr old KWPN Nala by Metall.  Nala is now a 5yr old and is with Harriet at Collective.
Talent wins games, teamwork wins Championships!