November was incredibly busy on the competition front. To start us off, Kathryn took Lexi to Allens Hill where they scored 66% in their para test! Liza also headed there on Saturday with Tom and they won their debut inter 2 on 64%! The next day Liza and Debbie Cole went back up the M5 to Hartpury where Ludo and Fox coped brilliantly in the Hartpury Arena – Ludo was 3rd in his Novices, with some baby wobbly moments when he was trying very hard not to spook! Debbie had a super outing with Fox who showed huge improvement in his spookiness to score 66% and 3rd in his Elementary!
A couple of days later, Liza and Debbie were at Kings Sedgemoor Equestrian Centre. Harry made his competition debut – despite only being under saddle for not even 3 months yet, he won his prelim overall on 72% and then was 2nd in the Novice, just behind Ludo who won on 68%, which completes his regional qualification! Debbie and Fox coped really well with some spooky puddles which previously would have caused a lot of trouble for Fox, for 4th and 5th in their Elementaries!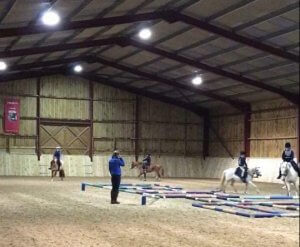 To complete a busy week, Liza headed to Summerhouse EC with Tom, where they clocked up another 64% at Inter2 and 3rd place – with a winter of training ahead now, 2018 should be exciting for them!
The 11th turned out to be a very busy day, with Liza holding at Equestrian Training South West pole work clinic as well as some rallies for the Banwell Pony Club, with practically every pole on the premises used! The day was a huge success and plenty more pole work clinics are planned.
Training for the 2018 season is well underway – with some super sessions for the team with Gareth Hughes and Lara Butler. This set up Alex and Ruben nicely for their trip to Aachen for another Young Rider International competition, unfortunately the channel was a bit too choppy for the ferry to take horses and so a rather longer than planned journey there left Ruben a little tired, however he tried his heart out for Alex at such a prestigious venue for 2 solid 65% tests.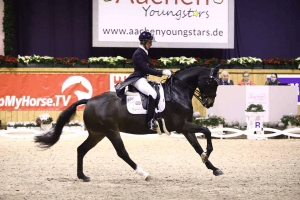 Meanwhile, Germany came to Hartpury for the BD National Convention with two top German trainers sharing their thoughts, with Liza and a mix of livery clients and schoolmaster clients attending – it was another great Collective day out!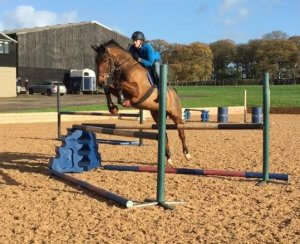 Leaving the dressage out for the day, Liza and livery Sarah Barden set out a simulated XC course in the outdoor arena, which Boris and Caspar thoroughly enjoyed – as did the some of the girls on their own horses! Even Liza was spotted flying around on Caspar too!
The final show of the month was for livery Wiets who made her Elementary debut with Liza – scoring an impressive 67% and 2nd, following on from a 3rd in the Novice with her owner Bonnie Dury!
As December approaches we are looking forwards to welcoming Shannon Cussen to the team from Ireland, as Joanna heads back home to Poland after her year in England!