Published at: 05/05/2017 / Category: collective news / Comments: Comments Off on April 2017 Update & Results
April started off with Antonia Wills joining us for a saddle fitting and jumping clinic, we also welcomed Bonnie and her lovely mare Wiets to the yard as a long term livery.
T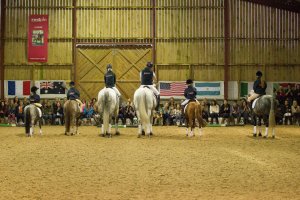 he first competition of the month was to Mendip Plains Equestrian Centre, Jess Clare was 3rd in the Novice with Austin on 70%, Ruby Darby made her debut with Lexi winning both Novices on over 73%.  Apprentice Martha Little was 3rd in the Elementary with her own Frodo on just under 64%. Alex was kept busy judging, whilst Liza was helping in the warm-up.
Ahead of our Spring Demo, the team were delighted to receive their Baleno waistcoats – thanks to Tylers for the embroidery. Our demo evening on Friday 7th was a huge success, with well over 100 people attending, Charles Teton captured the evening with some super photos. Collective Dreams thoroughly enjoyed their show case riding with Jonny and Liza, Katherine Allard gave a useful insight into how rider analysis sessions can help with straightness issues as well as working with our own physical weaknesses. Training sessions with Jonny, Alex and Liza gave an insight as to the day to day training that takes place, with Alex and Ruben finishing the evening showing off the more advanced training.
Following the demo, our 2 day training weekend proved highly enjoyable and useful for our riders, who also teamed up with Katherine Allard for rider analysis sessions.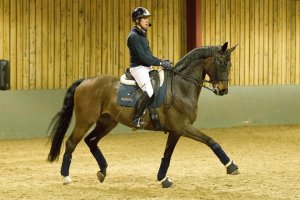 Liza returned to Mendip Plains for Banwell PC Camp, as well as running several rallies at Curls Farm over the Easter Holidays, she also judged at Avon RDA for their final Championship show in their winter dressage league.  Alex is now holding regular test riding clinics at Mendip Plains, having become a BD List 4 judge – take advantage of being able to polish up your test riding!
At West Wilts EC on the 21th April, Ruby and Lexi came third in their first affiliated Novice tests, with Debbie Cole and Fox coming 5th in the Elementary behind Liza who won with Austin. Liza then took over the reins on Fox to win the second elementary with Austin just behind in 2nd!
Later that evening, Collective Dreams clocked up another 2nd at Kings Sedgemoor, in the BD TeamQuest competition, they also enjoyed another 2nd at West Wilts as well as a win at Mendip Plains. This has put them in a very close 2nd on the South West Region leaderboard! Following their success, Collective Day Dreams has now been formed and they will be out and about later on in May!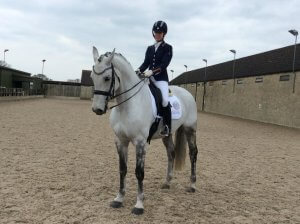 On Sunday 23rd,  Jonny took Zak to do his first PSG at Hunters EC – with an incredible 75% and a win, with Alex and Liza close behind in 2nd and 3rd! Alex went on to win the Inter1 with Ruben on 72% with Liza in 2nd on 71% with Rosie! In the same weekend Sarah Barden and Boris scored an impressive 69% in their Medium at Burrows Court Farm. Meanwhile, Josie brought home an impressive 2nd from Port Elliot Horse Trials with Friday! Kathryn's new young horse Finn also arrived!
To finish the month, Alex and Liza headed up to Bedford for Keysoe Premier League with Ruben and Rosie. Liza enjoyed 3 top ten placings with Rosie with 68% and 2 67%'s, a couple of mistakes the first 2 days put Alex just out of the top ten but by the Sunday they were on flying form for 4th in the PSG on 67%.
The team will out in force competing every weekend in May, as well as plenty of training going on at Curls Farm in the meantime!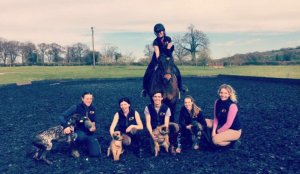 ---